Ginkgo leaves September 2019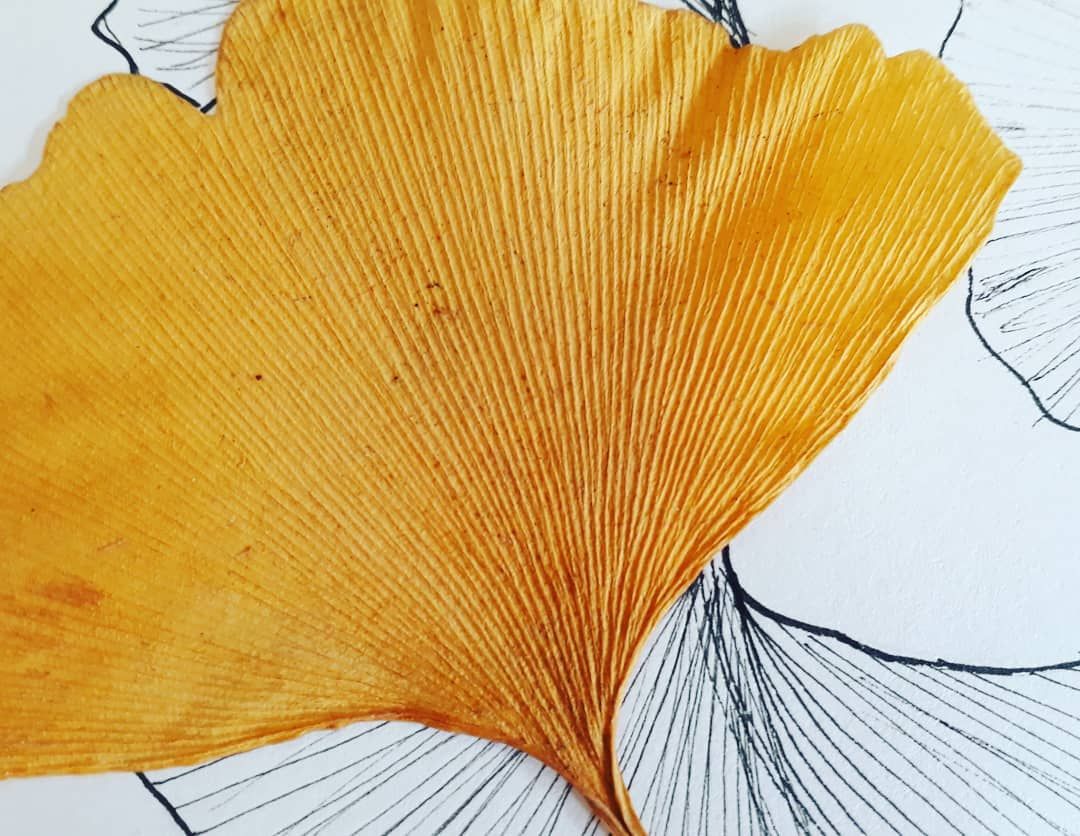 We're about to enter a fabulous season where the colours around change to the reds, yellows and browns of autumn. Last autumn I walked down a road I don't usually go down and came across amazing fan shaped, yellow leaves. I collected lots and in my ignorance had no idea they were Gingko Bilboa leaves. The Gingko tree is thought to be one of the oldest living trees, dating back more than 200 million years. Since then I've become a little obessesed with them! The shape and structure of the leaf is just beautiful, particularly in autum when the yellow really shows the ridges.
Like many of my designs which start with a linocut, I made a couple of linocuts of Gingko leaves. I scanned the linoprints into the computer and made a digital pattern to be printed onto fabric. This was done in three coloursways - my favourite is the aquamarine and green. I also screenprinted fabric and for the first time used a home screenprinting rig and light that I was given for Christmas last year - it's take a while to get around to using it. The first try wasn't very successful for fabric printing, although it made nice card, but the second attempt was just right. So now I can stamp and screenprint lots of items with Ginkgo leaves! .
Last summer I visited Portugal and fell in love with the tiles - they are beautiful and often intricate. Whole front of buildings are covered in them and old historic buildings have handmade tiles, each slightly different. I had taken lino and tools with me so carved a quarter of a tile, with the hope that all the four quarters when put together it would look like a whole tile. I didn't take into account that one side has to reflect the other, so I cut a new quarter when I got home. Once I was happy with it I made it into a digital pattern in three colourways - yellow, terracotta and blue and white. I also designed a complementary fabric for the yellow and terrcacotta and made the blue and white into a smaller tile.
Cotterell Cottage December 2018
Cotterell Cottage is the name of my new design that is based on some old wallpaper. I first saw this wallpaper when I visited a friend for a night. My friend and her family live in a house that is hundreds of years old and is slowly being renovated. One of the oldest rooms has been stripped back to the original stonework, although one wall has been left with some old wallpaper that looks like it comes from Victorian times. It has no colour but reminded me of a William Morris pattern and I got my friend to send some photos after we'd left as I thought it would make an interesting new design. I have no idea what the plants are in the picture! I would have loved to have seen it in it's original state.
I then drew my version of the wallpaper.
I still have no idea what the plants are, and they are probably even more unidentifiable than the original, but not everything has to be real, right?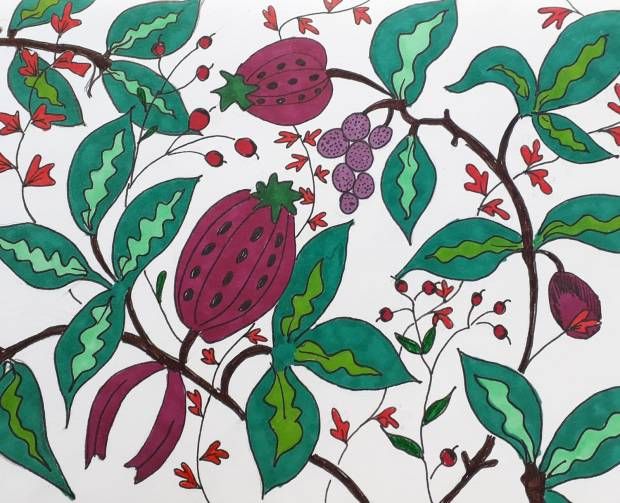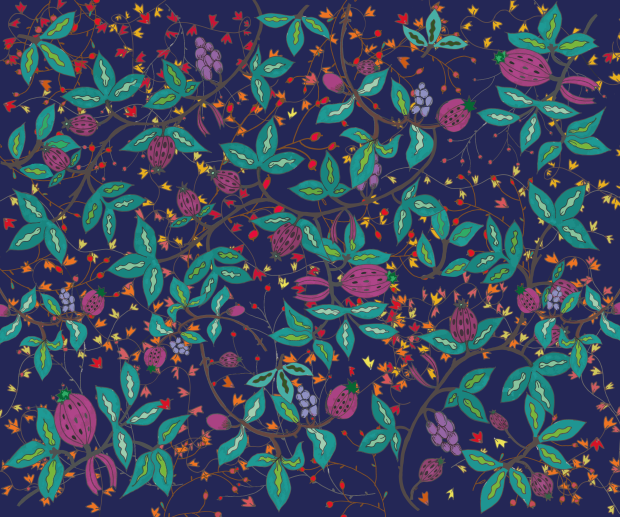 Quite sometime later, I finally got around to designing the pattern in Illustrator. I'm still very much a beginner with Illustrator, and because I don't use it as much as I should I forget how to use it and have to get out all my notes from the course I did last year, and look up tutorials online. This was my most complicated design and it's still not perfect, but it's workable, and I love it!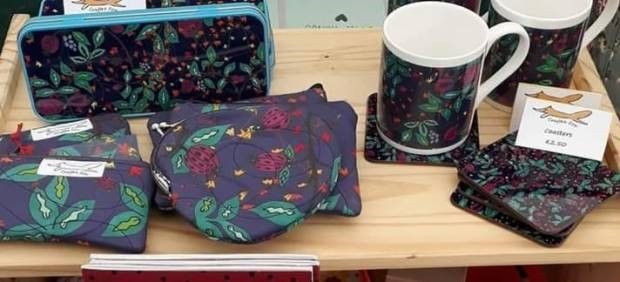 The first lot of fabric I had printed didn't have the colour of the background that I wanted, more purple that dark blue, but I was still pleased with the way it came out and the stationery tins were far nicer that I thought they would be. As a big fan of stationery, having my own design on a tin = big smile!
I have ordered more fabric from a different printers so it will be interesting to see what the colours are like, including waterproof fabric. I get too inpatient to send for samples, and as it was so close to Christmas, I just wanted to get the fabric. I'm really hoping it arrives this week so I can make a few items for my markets next week and add it to my existing products. I hope you like it as much as I do!
Somerset Blooms is a collaboration between my Mum and me, although a collab is probably over stating it a bit as my Mum had already painted the four watercolour pictures and I asked if I could use them. I scanned the images into the printer and then played around with them until I was happy with the design. There are two different designs - one that has all the flowers on and features a large cluster of flowers and another with just little buds. The two work well together and were also perfect for the dress I made my daughter for a family wedding. Seeing her wearing the dress with my Mum's design on was both lovely for myself and my Mum.
Last month I launched my latest design and it's all because of a pair of flip flops. These flip flops in fact.
These are my daughter's flip flops and while we were on holiday last year I drew them and added other flip flops.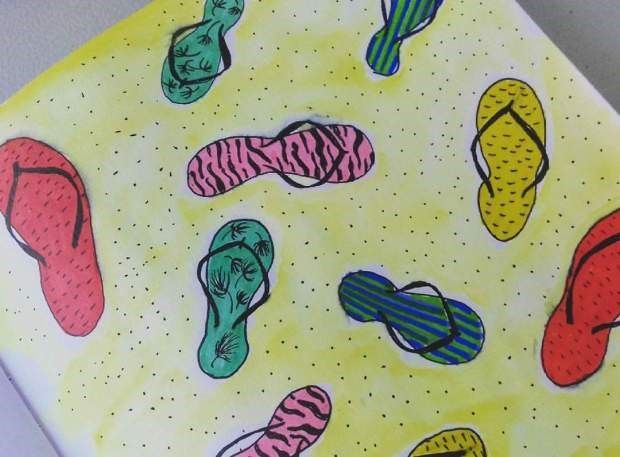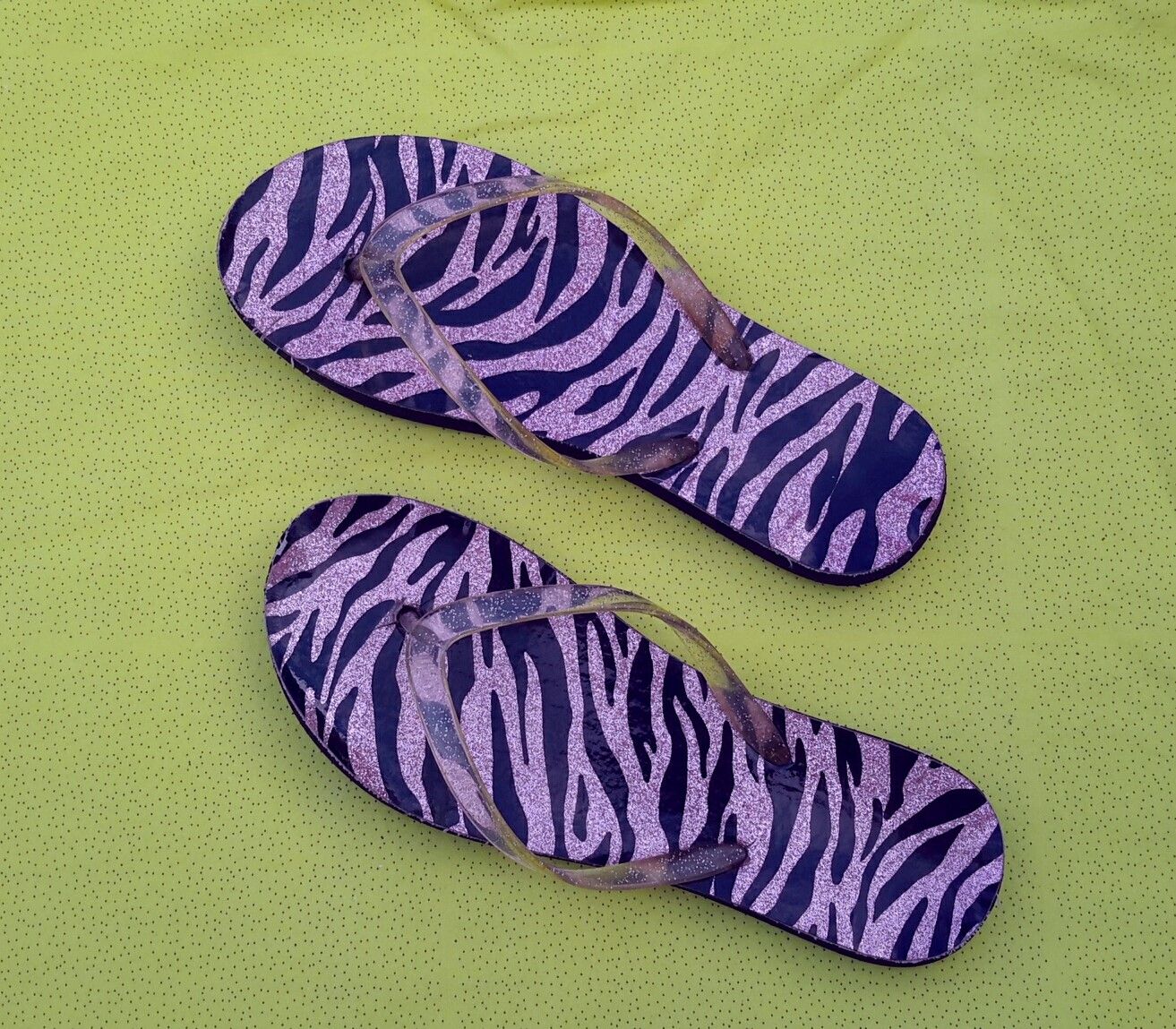 This year I worked them into a design on the computer and now have flip flop fabric and am making it into lots of items. Its different to my other fabrics – and not a flower in sight – but it does have similar strong colours. I made a complementary fabric for linings and after a mistake in the size of my image now have flip flops in two different sizes and three different colours. The larger size is good for bags.